📅 Last updated article " Why should you use Polyaspartic polyurea " on February 16, 2023 at TKT Floor Solutions Company in Ho Chi Minh City
1. Definition of Polyaspartic polyurea
Polyaspartic polyurea is a new, revolutionary technology that is being used in many industrial and commercial applications. It is designed to provide superior protection and durability compared to traditional polyurethanes, making it the ideal choice for a wide range of industrial and commercial applications.
It is a two-component polyurethane system consisting of polyurethane radicals and polyaspartic acid catalysts. Polyurethane base provides polyurea with a strong, durable, wear-resistant and abrasive finish, while polyaspartic acid catalysts allow polyurethane to process quickly and be extremely elastic. This combination of polyurethane and polyaspartic acid makes polyaspartic polyurea one of the most durable and reliable polyurethane coatings available.
See also: Learn about Polyaspartic polyurea floor coatings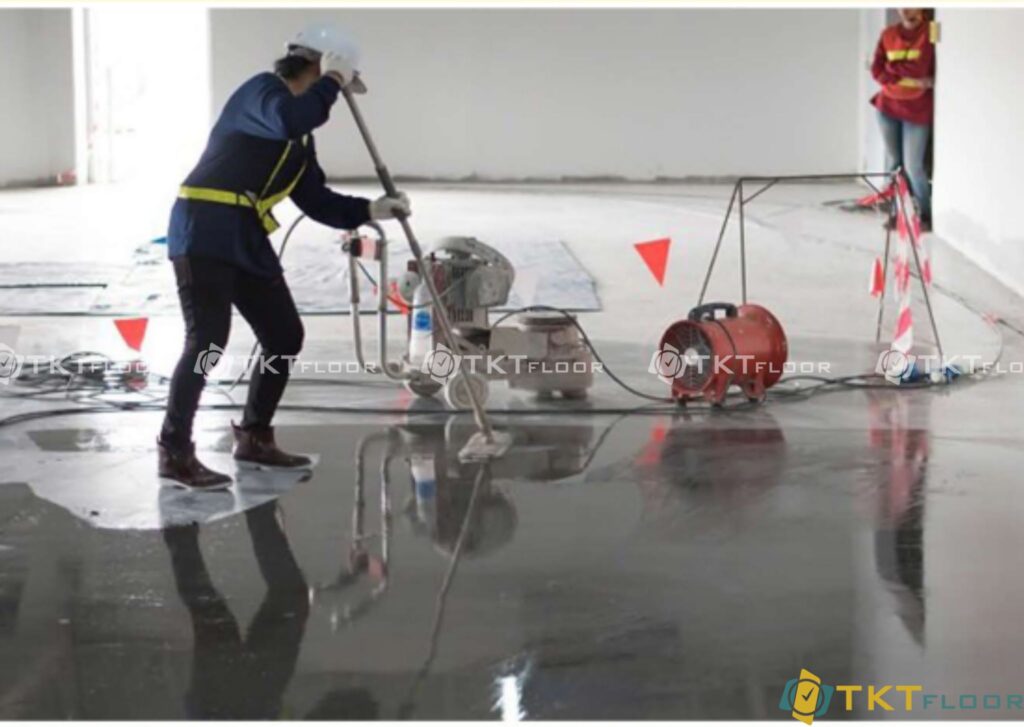 2. Polyaspartic Polyurea is recommended for the following great benefits
2.1 Zero voc emissions
There are no emissions of VOCs (volatile organic compounds). This is an environmentally friendly choice due to its low VOC emissions and reduced energy use during curing. This makes Polyaspartic Polyurea coatings a better choice for the environment and human health.
2.2 Quick installation
The permissible temperature is from -30 °C to + 60 °C, under conditions of high humidity. Quick response, immediate closure of the film on the surface should be suitable for repair and restoration of cracks. The coating dries in seconds and can walk in less than a minute. Dry completely for 24 hours, subject to soaking, chemicals for 1-3 days. The process of coating with polyaspartic polyurea takes place quickly and efficiently.
2.3 Extremely durable and corrosion resistant protection
Polyaspartic polyurea is resistant to high wear, impact and extreme mechanical stress. It has excellent protection against mechanical impacts. Minimize damage to the anti-corrosion coating system and ensure corrosion resistance. Its outstanding durability and wear resistance make it ideal for areas with high travel density, while superior surface protection.
2.4 Effective waterproofing
Polyaspartic polyurea is great for waterproofing and soaking. It creates a seamless waterproofing film with excellent crack bridging and excellent adhesion to metal and concrete.
2.5 High elasticity
Polyurea is extremely elastic: from 1450 – 4350 psi (10 – 30 MPa). The elongation is large when broken, the elongation is up to 1000%. And maintain elasticity even at -40°C. Extremely elastic, polyurea has excellent crack bridging and wear resistance.
2.6 Good chemical resistance
Polyurea has very good chemical resistance and can achieve enhanced chemical resistance with appropriate coatings. Polyaspartic Polyurea is highly resistant to the effects of chemicals, solvents and oils. It therefore becomes the ideal choice for industrial and commercial applications. Its outstanding durability and wear resistance make it ideal for use in areas with high back-and-forth traffic.
2.7 UV protection
Tests also show that commercial floor coatings using polyaspartic polyurea are UV resistant. UV rays are radiation that cause people to sunburn and plastic objects to fade or turn yellow. Because protective coatings are UV resistant, they can be used in UV facilities or outdoors.
2.8 Suitable for indoor & outdoor use
It can be used in indoor and outdoor spaces. Because it is resistant to ultraviolet rays and high humidity. In addition, excellent heat resistance up to 130°C. Short-term up to 220°C. When it comes to operating temperatures, polyurea offers a wide temperature range. That makes it a great choice for outdoor applications
2.9 Aesthetics
Polyurea Polyaspartic comes in a variety of colors and finishes. Allows customization to meet the specific needs of the project both indoors and outdoors.
2.10 Cost-effectiveness and maintenance
It is highly cost effective and can be applied in a variety of ways. Easily applied by roller, brush or spray, making it a versatile and cost-effective choice for many applications. It is also easy to clean and maintain, making it an ideal choice for industrial and commercial applications.
3. Conclusions
Overall, this is a great choice for a variety of applications. In addition to strength and abrasion resistance, polyaspartic polyurea offers outstanding surface protection. It can be applied to many types of surfaces including metal, concrete, wood, etc. . . It can be applied in many different ways. This protects the surface from scratches, fading and other surface damage.
In addition, polyaspartic polyurea can be applied to a variety of surfaces. Thus creating a protective coating that is highly resistant to the effects of moisture, chemicals and ultraviolet rays. Its eco-friendly properties make it a versatile and cost-effective choice. With its versatility and cost-effectiveness, it is an excellent choice for many industrial and commercial applications. If you are looking for a reliable coating or finish then Polyurea polyaspartic is the right choice.
4. You may be interested
TKT Floor Industrial Floor Solution Company
📞 Mobile phone number: 09.05.356.285
☎️ Landline number: 028.66.830.930 – 028.66.830.931
📧 Email: tktfloor@gmail.com – Website: https://tktfloor.com/
📺 Youtube: https://www.youtube.com/channel/UC8_fgvlxqKdGG57pNPjpnyw
📰 Fanpage: https://www.facebook.com/tktfloor/
🏢 Address: No. 9, Street 28, Binh Trung Tay Ward, District 2, Ho Chi Minh City.
Call Us – 100% Free – 100% Satisfied
Source: TKT Floor Hard Floor Solution