📅 Update the article "Top 5 favorite cafe flooring materials" last time on March 29, 2023 at TKT Floor Solutions Company Ho Chi Minh City
As a café owner, you know that creating a memorable customer experience isn't just about serving a great cup of coffee. The overall atmosphere of the cafe plays a big role in attracting and retaining customers. And an important factor that can make a big difference between cafes is the choice of flooring materials. The unique and new floor style will make a special impression that makes customers want to come back to enjoy that space.
In this article , TKT Floor will introduce you to the top 5 most favorite cafe flooring materials and experience in choosing the right materials for your own style.
1. Why cafe flooring materials are important
When it comes to creating an inviting and comfortable atmosphere for your customers, flooring is an important factor. The right floor can help set the mood, create a feeling of warmth and comfort. At the same time, make customers feel comfortable and welcome.
On the other hand, an inappropriate cafe floor can create an unharmonious and cold space, making customers feel uncomfortable and unwelcome.
Flooring also plays a practical role in cafes. Because it needs to be durable, easy to clean and able to withstand heavy traffic. With customers coming in and out of your café all day, your flooring needs to be able to handle wear and tear and bear well
2. Top 5 most popular cafe flooring materials
Currently, there are many types of materials in the market that can construct floors perfectly. But the floor of the café needs to be carefully selected and suitable for each style of the owner. Therefore, it is very picky about materials and needs to be chosen meticulously so that the whole café space is harmonious and comfortable. Here TKT Floor will introduce some types of flooring that are popular with café owners.
Terrazzo decking
Terrazzo can customize the design to suit each décor space by changing the constituent elements. With rich grain stones and colors, the terrazzo grinding wheel pattern is unlimited. The terrazzo floor is finished with gloss and fancy with stone particles on the surface. In addition, it can be used in combination with gouache to create eye-catching colors for the floor and more suitable for the decorative space. In particular, in addition to the construction of monolithic floors, terrazzo is also produced in square or rectangular sheets. So terrazzo is a perfect choice for cafe flooring.
Terrazzo is not only used for floor construction, but it is used by many designers to tile bars, countertops, stairs, potted plants. . . . With the benefits that terrazzo stone brings and high aesthetics. Make many people love and use terrazzo stone in the construction and design of the cafe.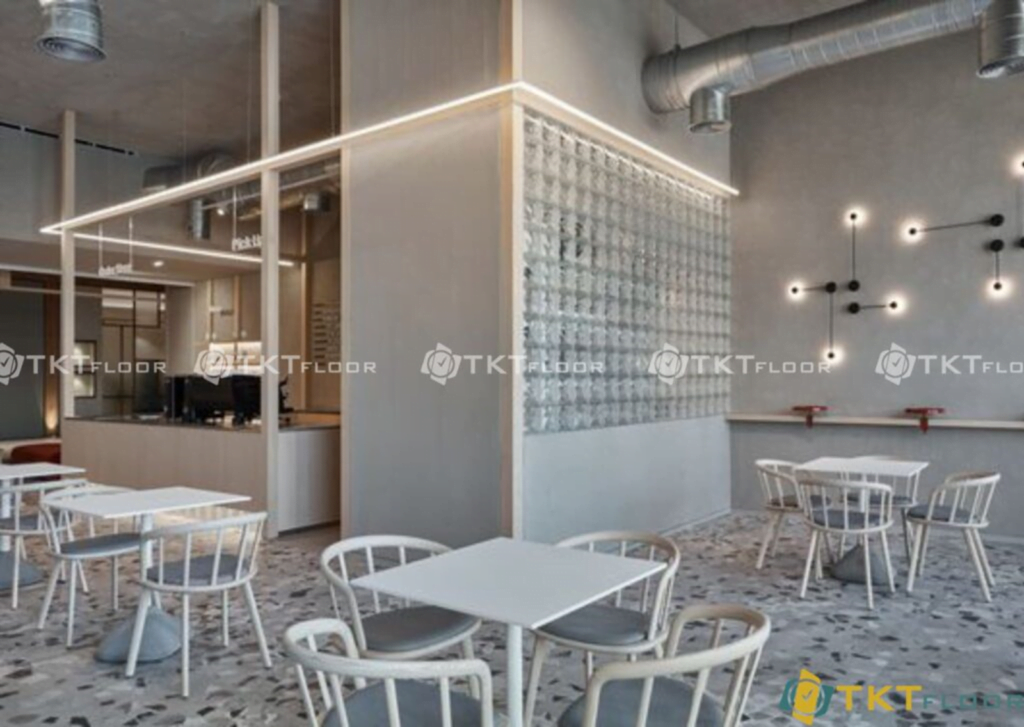 Advantages of terrazzo flooring
Terrazzo flooring has high durability, long service life
Flexible color design, diverse and rich designs
Terrazzo is stain-resistant, water-resistant, and chemical-resistant
Easy to clean, clean and maintain
The floor system is the most cost-effective due to its low maintenance costs
Safety with non-slip flooring
No VOCs for a healthy environment
Prevent and spread bacteria, mold
See more: Terrazzo floor construction Here
Wooden flooring
Wooden floors easily blend into all interior styles from classic to modern or even disruptive décor. The café with wooden floors will bring a feeling of comfort and cleanliness and this will definitely keep customers coming back.
With cafes that tend to be personal, modern and unique. You can use unique colors. Owners can use contrasting color furniture with wooden floors to impress customers. Suitable colors are usually: gray, white, or dark colors, or with distinctive veins. This will help make the space new, bring excitement and impression.
Wooden floors are also suitable for classic and elegant trends. With warmth and lightness, colors such as light brown, yellow, beeswax are great choices. It will create the most comfort and convenience for the café space. Besides, combining with old items of the previous era will also bring unexpected effects to your café.
Advantages of wooden flooring
Diverse colors with many types of wood grain
Quick and simple construction and installation
After installation, it can be used immediately. When necessary, it can be easily dismantled to be relocated, installed elsewhere or replaced.
Wood floors are warm in winter and cool in summer, creating a beautiful, clean floor.
Using wooden floors always creates a modern, luxurious but warm space.
Patterned stone flooring
In cafes, textured stone floors are often used a lot. Because it is not only beautiful, helping to improve the aesthetics of the space but also durable. Because it is composed of stone, it can withstand strong impact forces, is not afraid of impact, and has good slip resistance. It is very suitable for places with a lot of people passing by such as cafes.
Patterned stone models such as encaustic tiles, classic textured tiles are always preferred by its owner. With encaustic tiles, bricks with cubic motifs will create a modern, eye-catching, new beauty mixed with a little old flavor. Not only is there a harmonious blend of classic and modern, but textured stone flooring also has good and durable materials. Moderate shine, high slip resistance, good bearing. Therefore, it is still a 'hot trend' product in recent years.
Advantages of textured stone flooring
Great aesthetics
High durability, impact resistance
Deliver value more than cost
Natural materials, environmentally friendly
Diverse, rich designs and many unique products
Vinyl flooring
Vinyl is a perfect choice for your cafe. Many people want to use this material because it has a beautiful appearance. It has limitless design and color possibilities when you are using this material. You can choose the best design that suits your needs.
This material can be similar in appearance to hardwood floors. Many people are interested in this product for this simple reason. Vinyl flooring is also very affordable for most people. If you want to build a new café, you can consider using this type of flooring. Using this floor can be a great way to save your budget.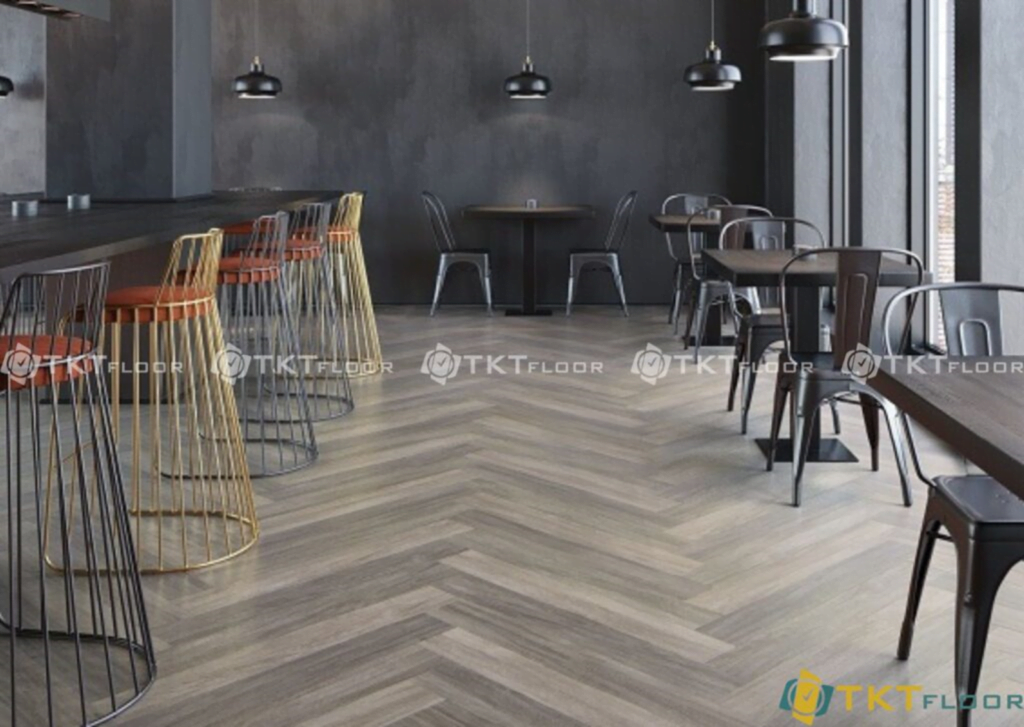 Vinyl flooring advantages
High strength, withstands large circulation density,
Move comfortably and have the ability to reduce noise
Low cost, stable
Easy to install and maintain
Diverse colors, luxurious patterns suitable for all styles
See more: Construction of antistatic vinyl flooring Here
Cement flooring
Cement flooring is a new trend in recent years and is applied in many spaces. The combination of cement flooring combined with a minimalist, luxurious style is full of positive energy. With youth and undying passion for coffee and coffee enjoying space. Cement flooring just brings a luxurious and classy space.
The trend of decorating choosing cement flooring is towards open design at bars, tables, chairs to give customers distinct emotions when feeling the taste, light, sound … Stimulate their interest in checkin. And to create a fresh space in the direction of industry and impressive lighting effects, the architects have introduced an important material, cement. Open space, breaking down the divide between areas increases interaction and social connection. Seamless cement flooring will make your shop space spacious and liberal and comfortable for customers.
Cement floor advantages
Seamless floor without iron, creating a continuous coating to make the space more airy and larger
Durable floors over time
Quick construction and installation
Diverse colors are aesthetically pleasing
Fits the interior and exterior
Perfect waterproof and anti-slip
Easy to clean, clean and maintain
The floor is warmer, creating a warm feeling for the space
Excellent resistance to most acids and chemicals
See more: Cement floor construction Here
3. Experience in choosing cafe flooring materials
Stylish selection
To choose the right type of brick, many factors need to be considered. Including the style of the shop, this is an important issue in the design. Each café owner will pursue its own style such as Vintage, European, Classic, Scandinavian, Rustic. The floor material of the cafe in accordance with the design style will make the space more prominent and attractive. This is very important to make customers feel comfortable and love the cafe space. It can also attract more customers to the shop.
Selection by material
The current market for paving materials is quite diverse. You can freely choose according to your preferences and needs. With the space being a café, dropping drinks on the floor is inevitable. Moreover, this area often has the movement of customers. Therefore, flooring materials need to have good waterproof, anti-slip and scratch-resistant features. In addition, the selection of materials must also be suitable for the characteristics of the shop as well as the application needs of the owner.
Selection by size
It is recommended to choose the size of paving materials in harmony with the area of the shop, creating a tight layout for the project. Choosing the wrong size makes the space of the shop confusing, losing harmony and comfort.
For cafes with a small area, it is recommended to use continuous floors, non-ron floors to create a feeling for a larger and more airy space. It is recommended to use neutral colors, avoid vibrant colors that make the café space become frustrating.
For cafes with a large area, the choices for owners will be more diverse. The flooring materials of the café are selected so that the long combination blends with the style and interior of the café. The combination with bright colors, monochrome textures will create ventilation and spaciousness for the space.
4. Reputable and quality floor construction unit
TKT Floor is a company specializing in providing hard floor construction, restoration and maintenance services. With more than 10 years of experience in the profession and 10,000 trusted customers. TKT Floor is the most favorite floor construction unit in Ho Chi Minh City. HCM. TKT Floor uses modern technology, advanced machinery and imported materials, so the quality of the floor is always guaranteed. The staff is highly qualified, experienced, always enthusiastic and loves the profession. Now we here are continuing to serve you tirelessly to bring the best values to customers.
Benefits of using TKT Floor's services:
Full-package, comprehensive construction
Dedication and meticulousness in the preparation and construction process.
Always work with customers to find the best and most economical solution for the benefit of customers.
In-depth experience supporting and resolving all difficult customer problems
Modern tools and equipment from Switzerland ensure construction quality as well as fast completion speed – safety.
With the most competitive price, along with high quality.
TKT Floor is confident to bring services beyond the cost you have to spend. Contact the hotline: 0905.356.285 for design advice, construction and detailed quotation completely free.
5. You may be interested
TKT Floor Industrial Floor Solution Company
📞 Mobile number: 09.05.356.285
☎️ Home/Office number: 028.66.830.930 – 028.66.830.931
📧 Email: tktfloor@gmail.com – Website: https://tktfloor.com/
📺 Youtube: https://www.youtube.com/channel/UC8_fgvlxqKdGG57pNPjpnyw
📰 Fanpage: https://www.facebook.com/tktfloor/
🏢 Address: No. 9, Street 28, Binh Trung Tay Ward, District 2, Ho Chi Minh City.
Call Us – 100% Free – 100% Satisfied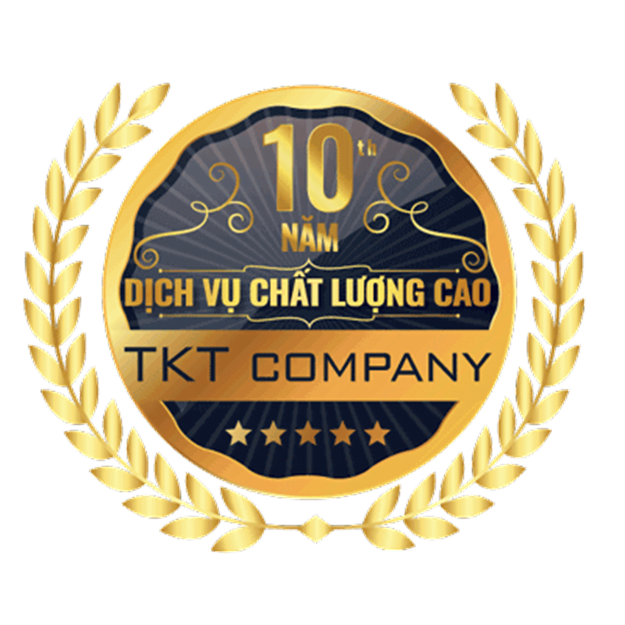 Source: TKT Floor hard floor solution