📅 Update the article "Learn about UV-resistant polyaspartic coatings" for the last time on June 29, 2023 at TKT Floor Solutions Company Ho Chi Minh City
If you are looking for a quality coating with good UV protection and chemical resistance, Polyaspartic coating is your first choice. The quality improvement of the polyaspartic coating, your floor will become extremely durable, easy to clean, non-slip, scratch-resistant and other damage.
In this article, TKT Floor will learn with you about UV-resistant and chemical-resistant Polyaspartic coatings so that you have the most suitable choice for your floor surface
1. What is Polyaspartic Coating?
Polyaspartic coatings are two-component polyurethane-based topcoats. Has a high content of solids, stable by ultraviolet rays. It provides a high-gloss finish with superior chemical resistance. This coating exhibits excellent physical properties that can withstand large impacts. It can be applied on the epoxy primer. Or used to re-coat existing epoxy or urethane floors.
Polyaspartic coatings not only cover your garage floor, but also penetrate deep inside the concrete to create a more durable and attractive floor finish. With polyaspartic floor coatings areas such as garages, commercial floors or your industrial plant floors. They will be constructed into a perfect surface with great features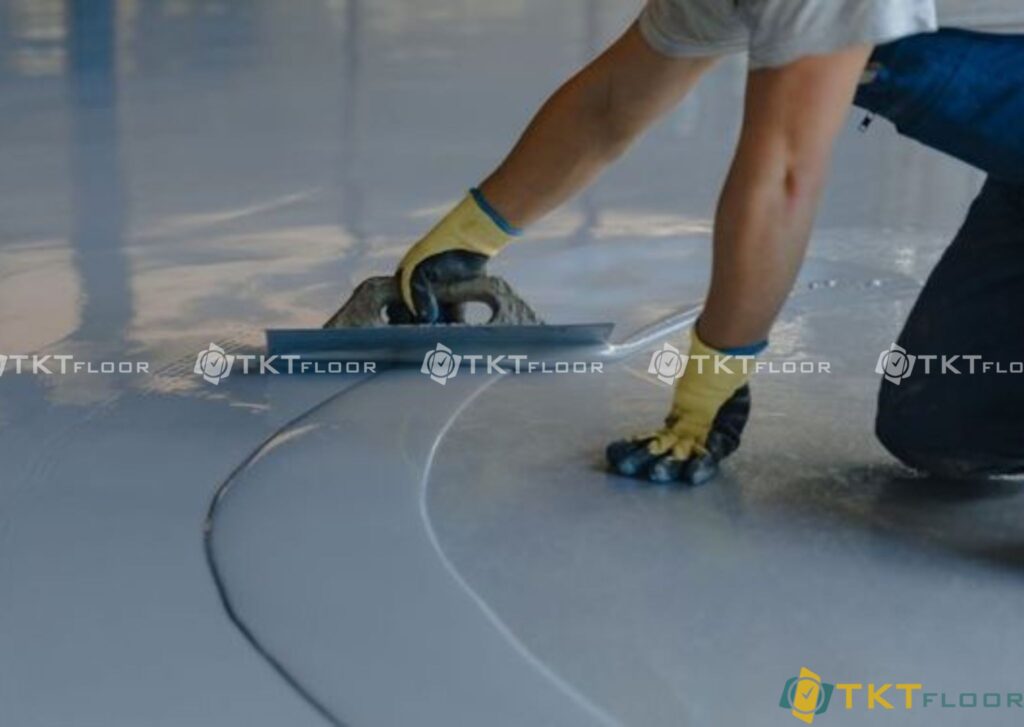 2. Why is Polyaspartic floor coating UV resistant?
Some types of coatings have a very beautiful appearance, smooth gloss. But when choosing a floor covering, it's important to choose the right coating that can withstand intense sunlight and UV rays. There are many types of coatings that after use will become brittle and crack, lose color. Or even begin to turn unaesthetically pleasing yellow. This happens when UV rays trigger chemical reactions in certain types of floor covering materials that cause them to begin to fade or deteriorate.
Polyaspartic floor coatings are also extremely resistant to peeling, fading and yellowing. Thanks to their unique chemical characteristics, which include aliphatic compounds. These chemical compounds are naturally resistant to UV rays and sunlight. Other types of concrete floor coatings, such as epoxy and polyurea. Made using different chemical combinations does not contain aliphatic compounds and is therefore less resistant to UV rays.
Some floor surfaces such as concrete are very susceptible to UV rays. So up has a protective layer against damage from sunlight. Untreated concrete floors that are vulnerable to sunlight will shrink due to heat. Such causes cracks and other damage. This makes polyaspartic coatings the perfect choice for concrete garage floors, commercial buildings, swimming pools, and other areas that will be regularly exposed to sunlight. These floor coatings are your best option for strong protection of your flooring with UV stability.
3. What Polyaspartic coating characteristics become the best floor covering?
Polyaspartic floor coatings are known for their many features that increase safety, stability, durability, durability, and ease for any area. And the following will be some of the benefits that polyaspartic coatings bring:
Outstanding abrasion resistance
Resistant to chipping and other damage that may be caused by strong impacts
Anti-slip thanks to the additional texture that can be applied to the top. Make it a safe surface to move
Permeates concrete, promotes better bonding and a much longer service life than other concrete floor paints.
Can stretch when the temperature changes. Polyaspartic coatings will not lose their ability to bond with concrete as the concrete moves, preventing cracking and other unsightly damage.
Easy to clean with a variety of chemical solutions due to its high chemical resistance
Provides maximum protection for the floor with waterproofing and stain-resistant properties.
Whether it's in your garage, backyard, commercial building, or store. Polyaspartic coatings are your best option for UV protection and maximum protection of your flooring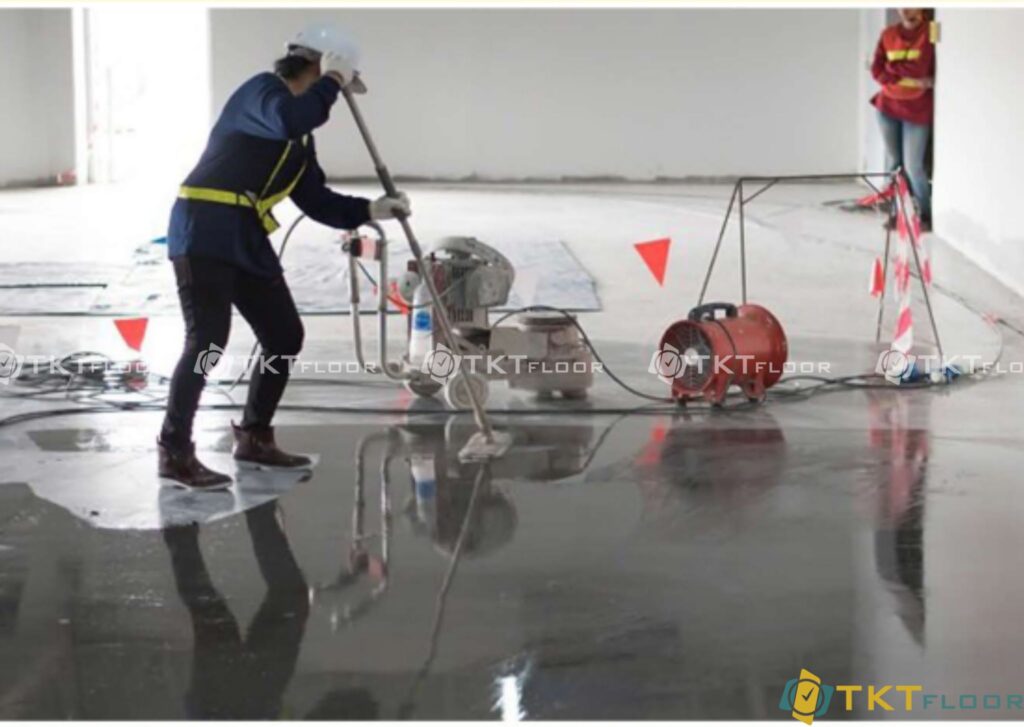 4. Some questions about UV-resistant polyaspartic coatings
1. How long does it take for Polyaspartic coating to dry?

Polyaspartic coatings are designed to exhibit fast curing and can dry in a few hours or less.  Typically, Polyaspartic coatings can dry after a few hours and dry completely after 24 hours. But you should refrain from moving on it after application so that the coating cures completely.

2. Can Polyaspartic Coating be applied at cold temperatures?

The answer is yes. Depending on the material blending formulation, polyaspartic can be used at extremely low temperatures below 0ºC.

3. Can Polyaspartic Coating be applied on Epoxy Coating?

Polyaspartic coatings can be applied on Epoxy coatings. Since polyaspartic exhibits higher interlayer adhesion to epoxy coatings. For old epoxy floor coatings that still adhere well to the surface, installers can apply a new polyaspartic coating to the area. The process to do so involves first mechanically shaping the existing epoxy floor by sanding it. The excess dust is then vacuumed clean and the area wiped with an appropriate solvent or adhesion catalyst to clean the surface.
5. You may be interested
TKT Floor Industrial Floor Solution Company
📞 Mobile number: 09.05.356.285
☎️ Home/Office number: 028.66.830.930 – 028.66.830.931
📧 Email: tktfloor@gmail.com – Website: https://tktfloor.com/
📺 Youtube: https://www.youtube.com/channel/UC8_fgvlxqKdGG57pNPjpnyw
📰 Fanpage: https://www.facebook.com/tktfloor/
🏢 Address: No. 9, Street 28, Binh Trung Tay Ward, District 2, Ho Chi Minh City.
Call Us – 100% Free – 100% Satisfied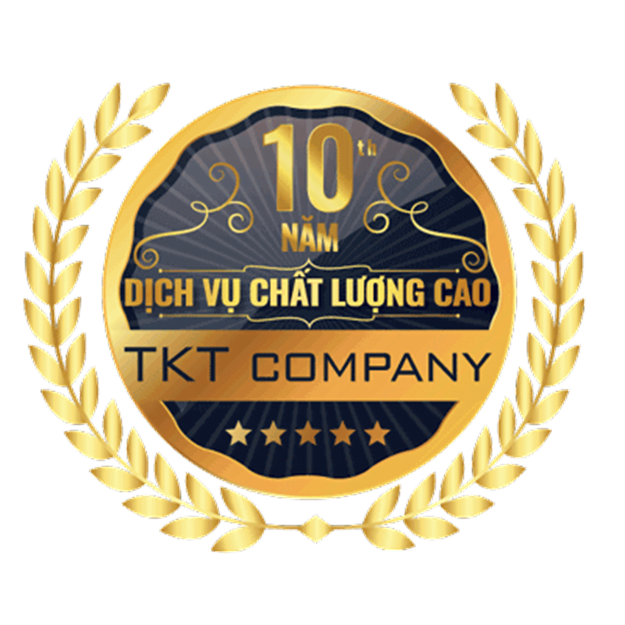 Source: TKT Floor hard floor solution